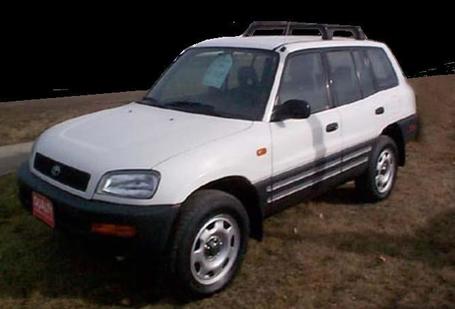 Pictured; Roanoke County Police are looking for attempted kidnappers believed to have driven a white-colored SUV, (similar to the one in this photo.)
10/22/12 – ROANOKE COUNTY, VA —
Roanoke County Police released a 'vehicle of interest' earlier this month in their investigation of the attempted kidnapping of a child in Roanoke County, Virginia.
Authorities believe based on the description of the SUV given to them by the six-year-old boy, that two men were driving a late 1990s model white Toyota RAV 4, similar to one in the picture above. Investigators believe the SUV may have dark tinted windows, and a trailer hitch.
The investigation started two week's ago after a police report saying two men attempted to lure a child into a vehicle.
The boy was on Peyton Street in the Summerdean subdivision at about 5:40 p.m. when two men invited him into a white sport utility vehicle. The boy didn't get inside the vehicle and instead hurried to his grandfather's house which was nearby and that's when police where called.
The men were described as Caucasian and in their twenties. Both suspects were wearing baseball hats with possible Indian logos.
RCPD said there have been at least two other reports of people attempting to lure children into a white SUV in late September in the same area.
According to Roanoke.com, Mountain View Elementary School Officials asked parents to remind their children how to handle situations with strangers. The memo advised parents to talk to their children and practice keeping a safe distance from strangers, walking away from a situation and making noise to attract attention to a potentially dangerous situation.
Roanoke.com also said anyone with information is asked to call: Detective K. Saul at 562-3265.